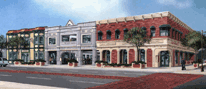 Heritage Court
of Gilbert, AZ
For more information
please contact us at
1-800-488-2849
or email us at
info@edenarchitects.com
COMMERCIAL BUILDINGS

Eden Architects continues to play a part in the development of high- performance'/high quality and unique commercial buildings. Although standard commercial designs are a mainstay of our firm, we take pride in designing and building structures that add character and impact to a project.

Take a moment and browse through our project photos and call us with your thoughts....

MASTER PLANNED COMMUNITIES


INDUSTRIAL PROJECTS Unique office buildings with warehouse space designed with the occupants in mind.

MEDICAL & DENTAL FACITLITIES include hospitals, medical and dental offices ranging from TI (tenant improvements) to full service design and build. EDUCATIONAL FACILITIES Schools - Private and Public. Click here to view Edu-Prize Charter School

OFFICE BUILDINGS From single tenant office space to multiple- tenants and multiple buildings/complexes.

RESTAURANTS From TI's to complete restaurants, Eden Architects LLC has the experience necessary to design a restaurant that will run efficiently and economically. TENANT IMPROVEMENTS (TI'S) Eden Architects LLC has vast experience in building out office spaces to designing clean rooms for medical facilities improvements. No job is too simple or difficult - our team works with the zoning departments of your community to help you meet your budget and give you what you want.

"Dreams Made Real"


Phone: 480.827.9932 - Toll Free 800.488.2849
Licensed in Arizona, Colorado, Florida, Iowa, Illinois, Mississippi, New Mexico and Minnesota
Copyright © 2005 Eden Architects, LLC. All rights reserved