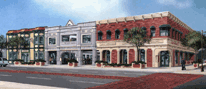 Company Profile
Eden Architects has served the Arizona market since 1987. Initially established in 1975 in Colorado, Eden Architects currently holds licenses in Arizona, Colorado, Illinois, New Mexico and Minnesota and holds a NCARB Certification.

Eden's architects are competent in every phase of architectural planning, layout, design and the preparation of construction contract documents. Our commitment to pre design criteria, in-house Team Architecture and scheduling and cost controls has strengthened our firm's rapport with our clients.

Each project is given careful individual consideration for the client needs, concerns, budget limitations, and construction techniques, to provide the client with an aesthetically pleasing, functional and economic design.

State of the art computer technology and computer aided drafting (AutoCAD) and design software facilitate the end product and provide the client with realistic computer generated models and renderings of their projects.

In addition to our staff, we work with a number of highly qualified and experience consultants and engineers to accomplish the Team Architecture approach for the many building types -
wood frame construction, pre engineered metal buildings,
pre-cast concrete, concrete tilt ups
and any combinations of all of these.
For more about
Eden Architects
please contact us at
1-800-488-2849

Welcome to Eden Architects LLC - a full service architectural firm - licensed in Arizona, New Mexico, Colorado, Illinois, and Minnesota - that provides comprehensive design and planning services for a wide range of project types.
Eden Architects LLC has over 30 years of experience in an architectural practice that specializes in Team Architecture. Team Architecture is a team approach to the planning and design of 'high performance' buildings. We believe that good design is the end result of good communication among The Team.
As our client, you are the first member of the team. We listen to you. We find out how you live, work, play. We discuss your goals and ideals. Together, we discover the elements that will become part of your home or commercial project.
Within the professional staff, we listen to each other and share ideas. Everyone is involved in your project. Click here to meet our professional Team
Throughout our 30+ years we have avoided being typecast because we approach each job as a unique opportunity to offer creative response to your distinctive set of requirements.
Every project is tailored to the individual specifications and needs of each owner. The client, architect and consultants are the core team working to carry a project throughout the design and construction phases.
Our primary interest is in making a total project work for those who live or work in it.
TEAM ARCHITECTURE - we believe the relationship between architect, builder and the client requires a team approach with open communication to keep things flowing smoothly.
Our Professional skills and knowledge include:
Understanding of the practical elements of a project
Awareness of the way an arrangement of space can affect those in it.
The ability to prepare a set of professional drawings and specifications.
The total knowledge of construction to create a buildable product.
Capabilities of dealing with seismic problems.
'Green' building, ecologically conscious/sustainable designs and environmental concepts.
Regard for the application of a pleasing and functional design.
Background and knowledge of construction and pricing.
Counseling of projects resale value.
Expertise in various design styles, i.e., Western Revival (a modern Victorian look), Southwestern, Spanish, Cape Cod, Mountain, Contemporary, etc.
REFERENCES
"Dreams Made Real"
Email us at:
info@edenarchitects.com






Phone: 480.827.9932 - Toll Free 800.488.2849 - Fax: 480.827.0685
Licensed in Arizona, Colorado, Florida, Illinois, Iowa, Mississippi, New Mexico and Minnesota
Copyright © 2005 Eden Architects, LLC. All rights reserved